Recommendations For Our Association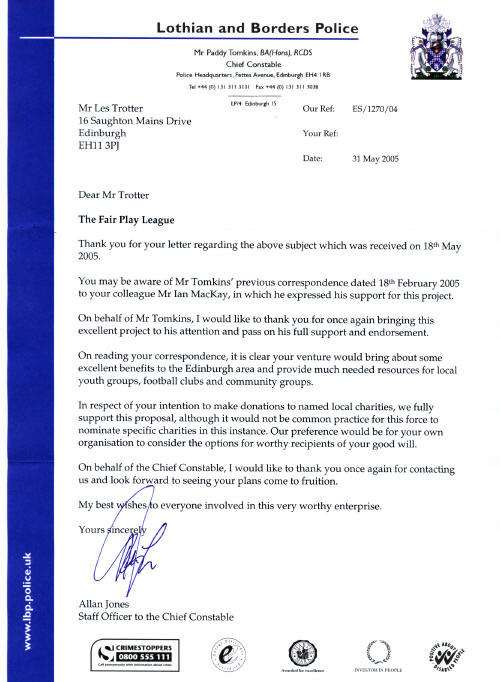 FROM MR IAN MACKAY SPORTS JOURNALIST EVENING NEWS
In what can be seen as another of the great initiatives in cleaning up the image of football, the organisers of the new Edinburgh and District Sunday Amateur Fair Play Leagues deserve the utmost support of everyone connected with football. This new set-up is part of the ongoing moves being conducted throughout football to bring back enjoyment and a family atmosphere to the game at Sunday amateur level with a 'Zero Tolerance' to violence. It is a wonderful concept by the organisers and, with 20 teams having already committed themselves to play in these new leagues, the desire to play enjoyable football in an acceptable manner is shared by many other people. This new football association has received approval from the Scottish Amateur FA and, as they look forward to their first season, they deserve the best wishes from all of us involved in the greatest team game in the world. Good Luck and Best Wishes, from Ian Mackay.
Dear Mr Trotter
Thank you and apologies for the delay in replying. What an excellent scheme. I am very happy to support your initiative. A few years ago, working with some other people, I got the Forrestine's Centre set up as a weekend community facility. I used to go and watch boys playing football and was appalled at the language and attitude of some of the parents on the touchline. Your plan to improve players' behaviour should work well. It would be harder to set up a competition to improve spectators' behaviour, but it would be worthwhile as an add-on to your fair play trophy. Perhaps one official from each club would be asked to keep a report card of the behaviour of the supporters of each of their opponents – perhaps giving them marks out of 10. The cards would be handed in at the end of the season, the totals for each set of supporters totalled and the club with the most points given a prize.
As a wee comment, when I was a Councillor I got a rugby pitch in the Gyle Park realigned, partly because of the bad language of the players annoying the adjacent residents in their gardens. I had some pleasure telling the Chief Constable that the police rugby team were the worst offenders.
Please let me know if I can help to promote your project.
Best wishes.
Donald Gorrie MSP
Central Scotland